Nine candidates in race that could be decisive in reuniting Mediterranean island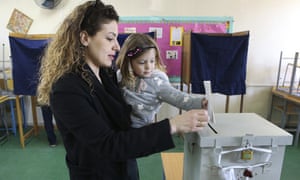 Greek Cypriots have begun casting ballots in a presidential election that could be decisive in reuniting the Mediterranean island after more than 40 years of division.
Polling stations across Cyprus's internationally recognised southern sector opened shortly after sunrise on Sunday. Nine candidates are competing for what will be the former British colony's most powerful post since independence in 1960.
Among the all-male line up for the fixed, five-year term is the incumbent president, Nicos Anastasiades, and Christos Christou, leader of the far-right Elam party.
An estimated 550,000 people are eligible to vote, according to election officials. "I urge all citizens to come out and vote," said Anastasiades as he cast his ballot in Nicosia, highlighting fears of voter apathy particularly among young people dejected by a political system seen as corrupt and inept. "No one is justified to complain about the election's results afterwards."
The front-runner in the race, the 71-year-old Anastasiades has led a campaign based on his track record as a safe pair of hands, arguing that under his watch Cyprus has rebounded spectacularly from the depths of near economic collapse in 2013.
In sharp contrast to debt-laden Greece, international supervision of the republic's economy ended when, despite the odds, it successfully exited a €10bn bailout programme in 2016.
If re-elected, Anastasiades, leader of the rightwing Disy party, said he would restart negotiations to reunite the island's ethnic Greek and Turkish communities in a bizonal federation at the point at which they collapsed in Switzerland last summer.
The UN-mediated peace talks came closest yet to ending partition. In 1974, Turkey invaded the island, seizing its northern third where about 40,000 troops are still stationed after a coup aimed at uniting it with Greece.
But while Anastasiades has consistently led opinion polls in the runup to the ballot, few analysts believe he will garner enough votes to avoid a runoff on 4 February.
Challengers include the Diko party leader, Nicholas Papadopoulos, 44, the son of Cyprus's late president Tassos Papadopoulos, who is widely viewed as a nationalist rejectionist because of his inflexible line on reunification.
Stavros Malas, a former health minister, is also running as an independent with the support of the communist Akel party. Either one could cull enough votes to enter a second round. The first exit polls are expected at about 18:30 GMT.