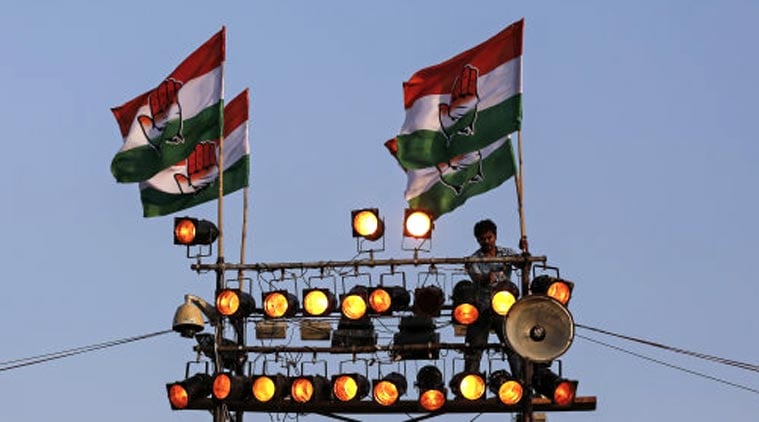 The list was released after two days of discussions with PAAS leaders, mainly Hardik aide Dinesh Bambaniya. (Photo: Reuters)
IN AN effort to placate the Patidar Anamat Andolan Samiti (PAAS), the Congress on Monday revised its list of candidates announced a day earlier by dropping four candidates, including Amit Thummar of the PAAS from Junagadh seat, ostensibly under pressure from Patidar quota agitation leaders.
The new list of 13 candidates named candidates for nine other constituencies, all going to the polls in the first phase of Gujarat Assembly polls on December 9.
The changes come a day before PAAS leader Hardik Patel's expected announcement on the organisation's electoral stand with the Congress. Hardik was supposed to announce it on Monday but put it off, apparently miffed with Sunday's first list of 77 names.
Gujarat Pradesh Congress Committee chief Bharatsinh Solanki told The Indian Express that the changes were made looking at the "political situation.because we have to win".
Also Read | Congress first list of candidates has 3 from PAAS, 3 Patidar corporators
PAAS's Surat co-convener Dharmik Malaviya, however, said, "For the first time, the Congress has bowed down before PAAS and changed candidates. The PAAS team is happy and will support Congress. The support of PAAS to Congress will be announced by Hardik Patel at a press conference in Ahmedabad on Tuesday afternoon."
Among the four replaced are two Patidar candidates, who are corporators in Surat Municipal Corporation, Nilesh Kumbani and Praful Togadia, the latter a cousin of VHP leader Pravin Togadia. Their offices were attacked on Sunday night after the Congress list was released.
Ashok Jirawala replaces Kumbani in Kamrej seat and former MLA Dhiru Gajera, a diamond baron, will fight from Varachha in place of Togadia.
Bhikhabhai Joshi replaced Thummar in Junagadh, while Jayesh Patel will fight from Bharuch in place of Kiran Thakor.
Also Read: Agreement on quota formula has been reached with Hardik Patel's PAAS, says Congress
While sources in the Congress said "original Congressmen" will now contest these seats, Satish Virda, president of the party's Junagadh city unit, claimed that changing the candidate is not possible for Junagadh seat. "We had recommended his (Thummar's) name to the party, and the leadership has accepted it. Today he submitted his nomination papers and also attached the party mandate…. If the party issues mandate to another person, nomination papers of both can be rejected. As of now, Thummar continues to be Congress's candidate," Virda told The Indian Express.
Tuesday is the last date for filing first-phase nominations.
Congress spokesperson Manish Doshi said the changes were made keeping in view "sentiments of local party workers and local political conditions, in consultation with the candidates who have been removed".
The list was released after two days of discussions with PAAS leaders, mainly Hardik aide Dinesh Bambaniya. Bambaniya alleged that the Congress had not taken them into confidence before announcing it.
Here is the second list of 13 candidates for the Gujarat Election 2017:
For all the latest Elections News, download Indian Express App