It may be years before the courts decide the Trump administration's lawsuit that seeks to overturn California's sanctuary laws, but the political impact will be felt in just months. And it won't help Republicans.
U.S. Attorney General Jeff Sessions ramped up the political tension Wednesday when he told a law enforcement gathering in Sacramento that California "is using every power it has — and powers it doesn't — to frustrate federal law enforcement. So you can be sure I'm going to use every power I have to stop them."
His underlying message will frighten immigrant communities and should energize Latino voters, who already overwhelmingly vote for Democrats. That could be a welcome boon to Democrats in the June primary election, because fewer Latinos vote in midterm elections than during presidential years.
And Republican candidates will feel pain as they embrace Trump's law-and-order stance to try to attract conservative primary voters, an embrace that will move them further away from California's political mainstream should they advance to the general election in November.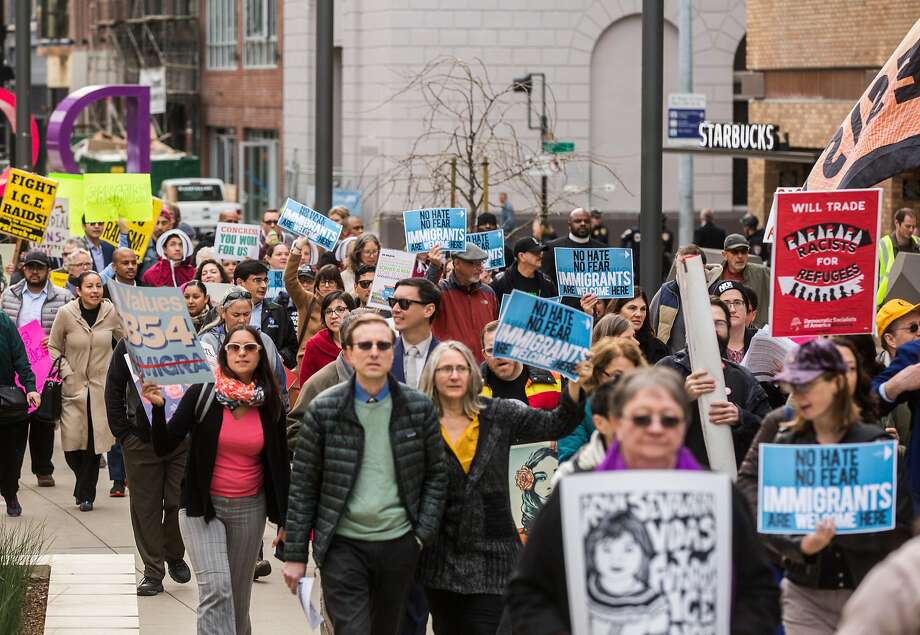 Photo: Jessica Christian, The Chronicle

Hundreds of protesters gather march behind the Sawyer Hotel Wednesday, March 7, 2018 in Sacramento, Calif. as U.S. Attorney General Jeff Sessions makes an announcement and speech regarding sanctuary jurisdictions.
Hundreds of protesters gather march behind the Sawyer Hotel…
"Politically, what it does is help Democrats by mobilizing Latino voters," said Luis Alvarado, a GOP strategist and president of the Latino Legislative Roundtable. "As I listened to Jeff Sessions speak, I imagined TV commercials on behalf of Democrats in the state."
While some analysts predict that the increasing threat of immigration raids has energized Latino voters in recent elections in Texas and Virginia, GOP strategist and Latino vote expert Mike Madrid said "that's not really excitement. Being 'energized' usually means you're happy. These people are voting out of anger and fear. And California is the motherlode of that. This will absolutely affect the outcome of races in California in June."
Overall, 58 percent of likely California voters, including 53 percent of independent voters, 54 percent of whites and 80 percent of Latinos, support sanctuary city policies, according to a January survey by the nonpartisan Public Policy Institute of California.
Increased Latino turnout could affect California's gubernatorial campaign in multiple ways. During his speech Wednesday, Sessions blasted Democrat Lt. Gov. Gavin Newsom, who leads in most polls, for praising Oakland Mayor Libby Schaaf when she warned last month of impending federal immigration sweeps.
"Bragging about and encouraging the obstruction of our law enforcement and the law is an embarrassment to this proud and important state," Sessions said about Newsom without using his name.
Alvarado said being name-checked — even anonymously — by the Trump's attorney general would be worn as a badge of honor by Newsom.
"They're popping Champagne at Newsom's headquarters because Jeff Sessions cemented him as the head of the progressives," Alvarado said.
But Madrid, who also is a senior adviser to Democratic gubernatorial candidate Antonio Villaraigosa, said that while Newsom may have scored the name-check, increased Latino turnout may ultimately help Villaraigosa more.
"I don't think anybody is going to remember who was name-checked in June," Madrid said.
"The bigger story is that this is a part of a tectonic shift in politics. It's not about one speech or one event or one day," Madrid said. "It's about a series of events and policies that are happening — and that Latinos and female candidates will be the beneficiaries. That's because Latinos and women tend to vote for Latino candidates and female candidates."
The two top Republicans in the governor's race came out strongly in support of Sessions' lawsuit.
Coinciding with Sessions' visit, Rancho Santa Fe GOP business executive John Cox released a radio ad that attempted to tie to the 2015 killing of Kate Steinle on Pier 14 in San Francisco by undocumented immigrant Jose Ines Garcia Zarate to Newsom.
"The senseless, random killing of 32-year-old Kate Steinle by an illegal alien convict, is chilling testimony to how Gavin Newsom's sanctuary city values differ from the rest of us," Cox said in the ad. "As governor, I promise you that on my first day in office I will act to repeal Jerry Brown and Gavin Newsom's sanctuary state and restore the rule of law."
But Alvarado said that while that may play well in the gubernatorial primary — where Cox and Assemblyman Travis Allen, R-Huntington Beach, are fighting over the 41 percent of the ballots expected to be cast for Republican candidates — "It becomes very difficult to defend that the general election."