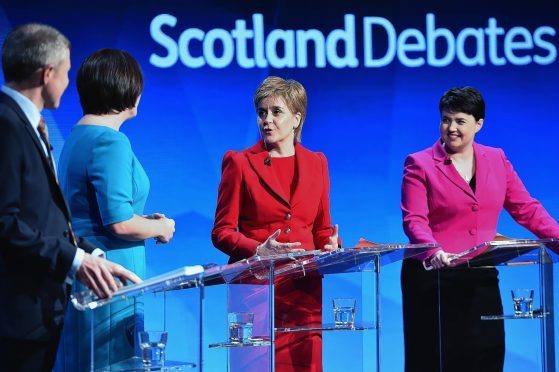 Nicola Sturgeon has been branded a "clype" by political opponents as the general election campaign in Scotland headed towards a bitter climax.
Tory leader Ruth Davison hurled the insult after the First Minister opened a spat with Kezia Dugdale over support for a second independence referendum.
Ms Sturgeon dramatically accused the Labour leader during a TV debate on Tuesday of telling her in a private conversation after the Brexit vote that she would drop opposition to a fresh poll of Scots.
Ms Dugdale denies the charge.
Speaking at an eve-of-poll rally, Ms Davidson said she was astonished the first minister would share a private conversation for political gain.
She said: "We've learned a lot in the last 24 hours.
"I've thought an awful lot of things about Nicola Sturgeon over the last few years but I never thought she was a clype.
"I don't think we needed to hear that because we already know Kezia Dugdale has been on a journey and back again.
"If somebody will reveal a private conversation on the eve of an election to score a few political points I think people will make up their own minds about the character of the first minister."
The row also dominated First Minister's Questions at Holyrood later that afternoon.
Ms Davidson asked: "Why does the First Minister believe that private conversations should not stay private?"
Ms Sturgeon replied: "Actually, I do believe that. Of course, the conversation that Ruth Davidson is alluding to was taken from the private sphere into the public sphere not by me, but by Kezia Dugdale.
"The fact of the conversation and a very selective account of its content were first put in the public domain on 23 February in The Times, which said 'Ms Dugdale reveals she held secret talks with the First Minister'.
"That is what gave me the ability to talk about it. Of course, the part of the conversation that Kezia Dugdale did not refer to was the part that I spoke about last night, which I stand by 100%."
Ms Dugdale again denied she had made the comment, before attempting to shift the debate onto nursing vacancies.
She said: "If the past 24 hours have shown us anything, it is that the First Minister will say anything to deflect from the Scottish National Party's appalling record in office."
Ms Sturgeon said: "I am standing here in the chamber of the Scottish Parliament and I am certain of what was said."