By Sophy Ridge, Sky News Presenter
On the surface it looked like a PR disaster. A representative of the Government getting harangued by an angry member of the public. Exactly the sort of uncontrolled embarrassments that political minders try to avoid.
At least, that's what the old rules of politics say.
The Leader of the House of Commons Andrea Leadsom was confronted by an irate resident when being interviewed by Sky News about the Grenfell Tower disaster in west London this week. London mayor Sadiq Khan was also angrily heckled when he gave a speech outside the burned-out shell of the building.
Far from being a communications catastrophe, these confrontations are exactly what is needed – politician being forced to listen to the bubbling rage and deep sense of injustice felt by so many in the wake of the worst fire disaster in decades.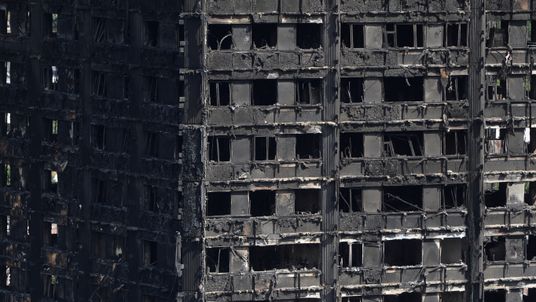 The deprived communities in places like Grenfell Tower feel abandoned and ignored by the political class.
A politician not being able to run away to the safety of a ministerial car (like the one Theresa May was bundled into after meeting residents at a church on Friday) but witnessing the pain so many are feeling.
Families died at Grenfell because they were trapped with no way out – others lost their grip of a loved one's hand in a stairwell never to see them again or desperately waved out of the window for a rescue that would never arrive. The usual rules do not apply.
I am not sure, however, that the Government has grasped this yet.
Theresa May has met victims and emergency workers in controlled environments and announced a package of measures aimed at helping victims.
The press releases and statements have gone out. On the Sunday morning programmes, ministers calmly and clinically defended the Government's response.
Chancellor Philip Hammond said: "When the inquiry produces its recommendations we will act on them."
Greg Hands, the International Trade Minister and Minister for London, said: "I think people are right to have concerns" and the Government will "take action as quickly as we possibly can."
Of course it is right that governments use measured language and don't jump to conclusions.
But after reporting from the blackened embers of Grenfell Tower on Friday – a structure so battered it looks like it would crumble to dust if you so much as touched it – I wonder if people are crying out for something more.
When the protest snaked its way down the road, people cried out for "justice".
Justice is partly served by proper process and carefully considered recommendations. But it is also about being listened to. The deprived communities in places like Grenfell Tower feel abandoned and ignored by the political class.
They must now show they are listening and that they get it – even if that means more angry confrontations.
Sky Views is a series of comment pieces by Sky News editors and correspondents, published every morning.
Previously on Sky Views: Lewis Goodall – Rebel Corbyn has become traditional