"Everyone loves Mexican food, but not the worker," says Yajaira Saavedra, 29.  Outspoken, direct, and passionate, Saavedra does not let her undocumented status silence her.
She stands behind a host podium, her cheeks pushed against the rim of her large glasses frames as she smiles and welcomes customers to La Morada, her family's Oaxacan restaurant on Alexander Avenue.
The restaurant spells out the family's political views from the front door, which reads 'Oaxaca Resiste,' and inside where a collage of stickers reads 'Black Lives Matter' and 'Don't Frack'.
The restaurant feels like a family living room with Oaxacan mortars, black pottery, and a wall filled with books, an informal community lending library. On a Saturday night, tables for four overflow with extra chairs, friends and family hanging off the edges sharing plates of mole or tacos. The news from a television above the books announces the latest version of a Muslim ban from the 'deporter in chief' as Saavedra says. Not shying away from their undocumented status, her family may not be able to vote at a poll, but vote every day with their food. From where its sourced, how its served and prepared, to how they have used their restaurant as community safe haven. La Morada is more than locale, it's a statement. Not just against the White House, but the 'white-washing' of gentrification creeping into the South Bronx.
La Morada started in 2009, in the Mott Haven neighbourhood of the South Bronx, which sits at the southern tip of the borough, right across the Harlem River from Manhattan. That was eight years ago, before trendy nicknames like SoBro or the Piano district cropped up. As Saavedra puts it, "That's how it starts, you rename the neighbourhood."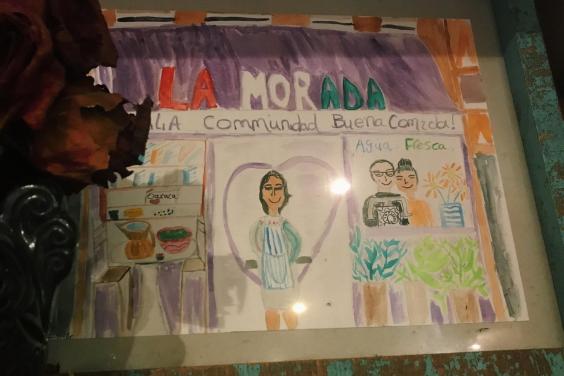 It's no secret that developers have been moving into the area, notably Keith Rubenstein, who according to NPR, is building seven new residential towers on the waterfront that will offer 1,400 luxury apartments with precious views of the Manhattan skyline. The Bronx is now rising like a phoenix from the ashes of crime and destruction, and people have been taking notice. The New York Times recently named the South Bronx one its 52 places to visit in 2017.  Anthony Bourdain ran a special highlighting food from the area, the Bronx is becoming a tourist destination painted with the same rhetoric that transformed Williamsburg from a Hispanic neighbourhood into millennials' new landing spot. However, Saavedra says the Bronx of immigrants and blue-collar workers is not giving in, "We are resisting, we are still standing."
Her deep attachment to the community comes from the support they gave her and her family when faced with the barriers to opening a restaurant. Given their undocumented status her family was unable to secure loans, grants, or get any sort of small business subside, especially in 2009, a peak of the recession. If it weren't for community support and patronage, her family's savings would have been spent in vain.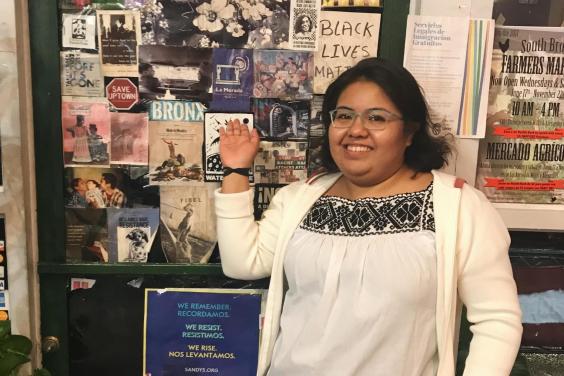 The restaurant was conceived as a place for Saavedra 's family to finally have a place of their own, where she and her mother, father, and brother were welcome—often feeling unwelcome while growing up undocumented. All family members had worked for years in restaurants across the city but wanted a place of their own. Now she worries the community that once welcomed her family from Washington Heights, is redefining itself by welcoming Apple Stores and Whole Foods. A case in point: The addition of a Birch Coffee shop, a chain of fair trade cafes, leads her to points out a key discrepancy: it's not as if the Bronx was devoid of espresso to begin with. "Hello! The Dominicans make delicious $2 espresso." The Hunts Point location closed, perhaps a good omen, but other trendy shops like Filtered Coffee exist near the sites of the proposed new apartment complexes.
Gentrification makes the Bronx out to be a desert, unclaimed, abandoned. La Morada is a prime example of the elitism of that attitude. While the borough still suffers from abnormally high asthma rates, an inaccessible waterfront littered with the remnants of abandoned factories, and a lack of public green space, as Saavedra sees it, an Apple store does nothing to change those realities. The grassroots community building that locales like La Morada have fostered is the momentum allowing the borough's inhabitants to reclaim and repurpose abandoned land as well as oppose corporate invasion from companies like Fresh Direct.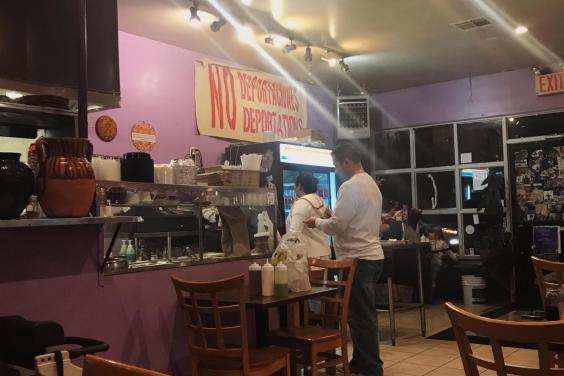 In the opening to Bourdain's Bronx special he says, "You've been to Brooklyn, maybe it's time you took a look at the Bronx." As the patron saint of hipster foodies his call to explore the lesser known borough makes an illusion to gentrification in its plea. His subtext reads as: Brooklyn is old news, it has long-since been converted to vintage stores and coffee shops, the Bronx is on the brink, still untouched by Manhattanite footprints. It expels a certain lure of culinary appropriation to claim the exotic and lesser-known as urban cultural capital—with no regard for how that may impact the local community. "There is lack of appreciation for what we are, for our culture, customs," says Saavedra frustrated by visiting customers complaining about the prices being "too high for Mexican food" or that the food is not like Chipotle. "Our culture is not seen as our own," she says. 
The Bronx isn't fated to be the next Bushwick or Bedstuy. The birth place of hip-hop is still rich with cultural heritage. "By holding onto our values, we stay strong, we fight gentrification," says Saavedra, ready to face the strong economic force knocking at her door. 
Reuse content