Posted on : Nov.15,2017 16:17 KST
Modified on : Nov.15,2017 16:17 KST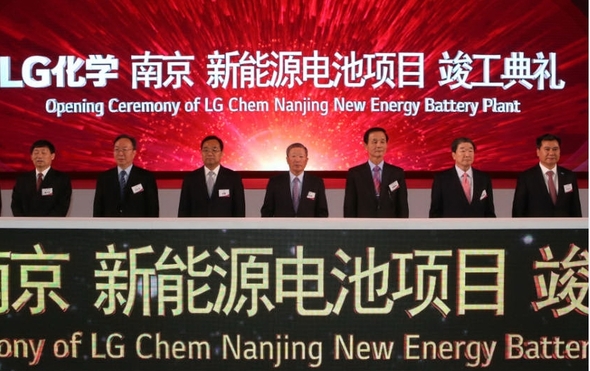 A Completion ceremony of the factory takes place for the Nanjing Electric Vehicle Battery Factory at the Xinjiang Economic Development Zone in Nanjing, China. This plant produces 50,000 batteries for high performance fully electric cars each year, along with 180,000 hybrid vehicles.
LG Chem and Samsung SDI are currently excluded from receiving Chinese government support
After South Korean President Moon Jae-in asked Chinese Premier Li Keqiang on Nov. 13. to revoke a rule that excludes South Korean companies from receiving Chinese government subsidies for electric car batteries, the Hankyoreh confirmed that working-level officials from the two countries had already been deliberating the issue. Interest is focusing on whether the two sides can reach a compromise before the South Korea-China summit that will be held in December.
"The two countries have already been discussing the suspension of battery subsidies on a working level. That's why President Moon put this on the agenda of his meeting with Premier Li," said a high-ranking government official who accompanied Moon to the Philippines during a telephone interview with the Hankyoreh on Nov. 14. "Battery subsidies can be provided or withheld at the discretion of the Chinese government, and they're currently talking about restoring bilateral relations," the official added.
During the meeting on the day before, Li's only response was that "we must be careful since this is a safety matter for Chinese consumers." By bringing up the electric car battery subsidies issue, some analysts believe, Moon likely intended to urge the two sides to reach an agreement before the South Korea-China summit, which is scheduled for December.
LG Chem and Samsung SDI have been producing and selling electric car batteries at Chinese factories that opened in Oct. 2014, but since the second quarter of the following year, they have been excluded from subsidies. The Chinese authorities have not provided a definite reason for this exclusion. Between 600,000 and 700,000 electric cars are sold in China each year, and batteries account for between 20% and 30% of the price of electric cars.
A Japanese company that sells a small number of batteries using the same technology and manufacturing method (ternary batteries) as South Korean companies was subsequently selected to receive subsidies, but South Korean companies are still off the list, amid the dispute over the THAAD missile defense system.
"The electric car business is a policy-based business that is swayed by the will of policy makers on matters such as subsidies. Even though it's possible to ensure safety by establishing safety certification standards according to the manufacturing method and then examining whether companies meet those standards, the Chinese authorities remain vague, only stating that this is a consumer safety issue [resulting from concerns about batteries catching fire]," said an source in the electric car industry.
Some industry observers think that South Korean companies were excluded from the electric car battery subsidies as part of China's protectionist effort to develop its domestic battery industry. Some Chinese companies are rushing to develop technology similar to the manufacturing method used by technologically superior South Korean companies.
By Cho Kye-wan, staff reporter
Please direct questions or comments to [[email protected]]