Given the harsh, unforgiving political climate the US is embroiled in right now, there are few (if any) publicly-traded companies out there that are more susceptible to controversy right now than The New York Times (NYT). Despite its long history, the business seems to be stuck in between what President Trump says and what reality says. In what follows, I will delve into some interesting data involving the Times and give my thoughts on why investors may want to consider a stake in the firm.
What a year!
Whether you like the Times or not, one thing is undeniable: investing in the company has been a real win over at least the past year. Since the last article I wrote about the business on January 31st, shares have soared 43.2%. If you look at the period since the time Trump won office, the surge has been even greater with a gain of 68.7%, while year-over-year the gain has been 66.5%. Undoubtedly, this makes the Times one of the best-performing businesses over the past 12-months, especially among multi-billion dolllar firms, and its performance has easily outpaced the S&P 500.
When you look at these numbers, especially if you rely on what Trump has been saying, you might be a bit confused. After all, in his latest post on Twitter (TWTR), put out on October 10th, he once again called the multi-media giant "failing". You can see this in the image below. To fail for a company is to see business deteriorate, especially if that deterioration is likely permanent. When this does happen, it's rare for said firm's share price to rise, and it's nearly unheard of (maybe completely unheard of) for it to rise as much as what we have seen in recent months.

*Taken from Twitter
Now, before I continue, I think it's worth mentioning something. My goal here is not to make a political statement. Irrespective of political views, I believe in keeping my beliefs separate from business analysis and business decisions because it welcomes in unwanted bias. Rather, what my piece here is about is about the factual data behind the Times. You can support Trump and still recognize that he is not fairly and accurately representing the Times. You can also have disdain for Trump and recognize when he does say or do something that's accurate. Personally, while I will not reveal my own political leanings in this article or any other that I plan to write in the foreseeable future, there have been things I have applauded our President for since taking office, and there have been things I have condemned him for. I suspect that had any other candidate taken office earlier this year, this sentiment would still be true.
The Times has done really well
Instead of relying on political biases, what matters in my mind, when it comes to analysis, is asking if something is true or not. If it is, great. But if it isn't, then it is incumbent upon the analyst to correct the record, to tell market participants when a person in authority is lying or misunderstands something material. Today, that's precisely what I intend to do. The fact of the matter is that, over the past several months, the picture facing the Times has gotten significantly better than it had been in a long while.
To see this, you need only look at the conglomerate's financial data for the first two quarters of this year. If you look at the image below, for instance, you can see recent financial data during this timeframe and you can compare it to the same period last year. Take, for instance, the picture involving sales. So far this year, revenue has totaled nearly $805.9 million. This represents an increase of 7.1% over the $752.1 million the company reported the same two quarters of last year.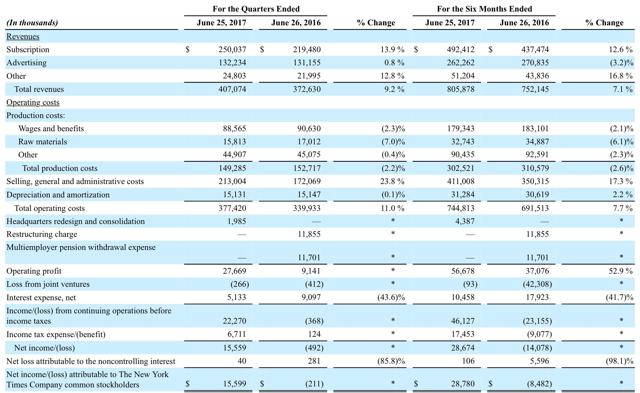 *Taken from The New York Times
Despite the fact that the print portions of the business have suffered (print advertising is down 14.5% year-over-year), much of the rest of the Times has done quite well. Digital advertising, for instance, has seen sales climb 20.8% year-over-year, and the number of subscriptions to the firm's online service has exploded higher. Year-over-year, subscription revenue for the Times is up a whopping 43.2%. This comes on the back of digital subscribers paying for the Times' service skyrocketing 63.4%, rising from 1.428 million at the end of the first half of last year to 2.333 million today. Furthermore, management suspects a similar year-over-year growth to the business will transpire in the third quarter, meaning that more upside potential might exist. You can see some of the details regarding subscribers in the image below.

*Taken from The New York Times
While management continues to build up its offerings, it's worth mentioning that this isn't the only important development for the Times. Sales don't mean much if it's coming at the cost of profits. As an example of this, give me or most any person the starting resources and we could build a company doing $1 billion in sales rather quickly. All we need to do is sell something in fairly high demand at a cost well below what it takes to generate a profit. And yet, would we have created any value? No.
Fortunately, for the Times, this does not appear to be a problem. As management stated in the second quarter earnings report, the business's operating cash flow so far this year has been $99.46 million, up from just $40.79 million the same time last year. What's more, if we assume that the trend cash flow will take this year should mirror what happened last year, we're looking at around $229.80 million in projected operating cash flow for all of 2017, up from a total of $94.25 million in 2016 and $175.33 million in 2015.
Now, it should be mentioned that not everything is great. While I do believe that cash flow is the most important metric for valuing a firm, adjusted operating income this year has totaled $61.07 million, an increase compared to 2016 of only 0.7%. This excludes restructuring and other, similar costs. Despite the fact that wages and benefits fell from 24.3% of sales down to 22.3%, and despite the fact that raw materials dropped from 4.6% of sales to 4.1%, the increase in selling, general, and administrative costs from 46.6% of sales to 51% has negatively affected the business.
Unfortunately, we do not know the exact composition of the SG&A costs, but given the Times' push into digital and seeing the surge in paid subscribers, it's highly probable that most, if not all, of the rise came from growing investment into attractive new customers. To me, this is the positive kind of cost increase, because it's something management can likely scale back on when they believe that kind of decision to be wise, without any significant impact to what will then be their existing customer base.
Takeaway
Based on the data provided, I really like what I'm seeing with the Times. If operating cash flow's trend repeats 2016's, this would imply that shares, despite soaring so high, are going for around 13.6 times forward operating cash flow. This is rich, but for a multi-media business with a strong moat and with impressive growth, it's probably not so high that investors should be afraid of a downturn (unless business does worsen or unless the economy takes a beating).
At least as important as the fundamental picture, though, is the fact that we separate public discourse from what the facts are. Whether you like Trump or not, whether you like his views or not, it's important to hold him, as well as all other public figures, accountable when they at worst lie and at best honestly get the numbers wrong. To not do so is unwise because when you start ignoring reality, you are moving down a slippery slope.
Disclosure: I/we have no positions in any stocks mentioned, and no plans to initiate any positions within the next 72 hours.
I wrote this article myself, and it expresses my own opinions. I am not receiving compensation for it (other than from Seeking Alpha). I have no business relationship with any company whose stock is mentioned in this article.